Five warning signs your property manager is underperforming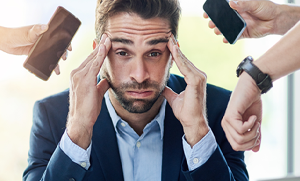 Wednesday, 21 September 2022
---
Property Scouts has outlined five warning signs that your property manager is underperforming.
1. Your tenants are calling you instead of your property manager
If you have hired a property manager, you have hired them to act on your behalf and handle the day-to-day business of owning an investment property. This includes fielding calls from tenants and addressing their concerns in a professional and timely fashion.
If your tenants are calling you instead of your property manager, something is seriously wrong. They're either struggling to contact your property manager, or their concerns aren't being addressed. If your tenants' concerns are related to maintenance or repairs, this is a big problem. If left unattended, little issues can become big issues which can become costly.
A property manager's work isn't limited to regular office hours. Tenants will have emergency repair requests at all hours and a good property manager will be on call 24/7, so they can respond to all queries in a timely manner.
2. Your property manager is missing in action (MIA)
As a landlord, you might want to be completely hands-off, meaning you only want your property manager to touch base with you when it is absolutely essential. Alternatively, you might want them to keep you informed every step of the way.
Regardless of your preferences, your property manager should be proactive in keeping you as informed as you want or need to be. You shouldn't have to manage your property manager and they should be easy to contact should you wish to get in touch with them.
If you're struggling to contact your property manager, or they aren't upholding their end of the bargain when it comes to maintaining regular communication with you, it may be time to consider whether you can rely on them to adequately look after your property going forward.
3. You've had a string of bad tenants
Another key part of a property manager's job is to thoroughly vet tenants to reduce the risk of placing troublesome tenants in your rental property.
Whilst the recently released privacy guidelines have made it harder for landlords and property managers to assess a tenant's suitability, a string of bad tenants could be a sign that your property manager isn't even trying to screen prospective tenants. A good property manager will have robust processes in place for screening and securing high-quality tenants who won't cause many (if any) issues once they settle in.
4. Property inspections are few and far between
Routine property inspections are usually conducted every three months and once completed, your property manager should provide you with a report that details the condition of the property and if there are any issues or repairs that need to be addressed.
Your property manager should also be conducting entry and exit inspections (at the beginning and end of every tenancy).
Routine property inspections are important for two reasons:
They ensure your property is kept in good condition and tenants are looking after it.
For you to be eligible for insurance cover, insurance providers often require evidence of inspections conducted at specific intervals (usually once per quarter).
There's cause for concern if your property manager is not conducting regular property inspections or providing you with an inspection report.
As mentioned previously, your property manager should be proactive in communicating with you. They should be providing routine inspection reports to you on a regular basis (as set out in your management agreement). You shouldn't have to ask for them.
5. Compliance issues
As an investment property owner, you're legally required to know and comply with the RTA, Healthy Homes Standards, Privacy Act, Human Rights Act, Building Act, and other relevant legislation. However, if you enlist the help of a property manager, they are responsible for staying up-to-date with law changes and ensuring your property, and the management of your property remains compliant. If there are indications that your property manager isn't complying with all relevant legislation, it's time to take action - before you end up at the Tenancy Tribunal.
If any of the above points resonate with you at all, it might be time to make a change for the sake of your investment.